Movie Times
Conveniently located on the Toronto subway line, the Empress Walk cinema is one of North York's most popular cinema destinations. Get the latest showtimes and movie information:
45 Years
Drama, 94 min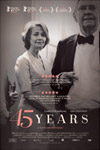 45 Years Trailer
Geoff (Tom Courtenay) and his wife Kate Mercer (Charlotte Rampling) are preparing to celebrate their 45th anniversary at their country property in Norfolk, England. Everything is going pleasantly until Geoff receives an unexpected letter in the mail. The body of Katia, an old girlfriend who fell during a hiking trip with Geoff, has been discovered in the Swiss Alps after almost fifty years.
The news causes hidden tensions to surface between Geoff and Kate. Geoff is consumed by the past and Kate by jealousy and uncertainty. As she battles to remain outwardly composed, Kate begins to wonder if she made a mistake all those years ago.
Deadpool: The IMAX Experience
14A, Action, 100 min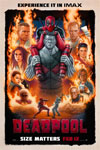 Deadpool: The IMAX Experience Trailer
The origin story of former Special Forces operative turned mercenary Wade Wilson (Ryan Reynolds), who after being subjected to a rogue experiment that leaves him with accelerated healing powers, adopts the alter ego Deadpool. Armed with his new abilities and a dark, twisted sense of humor, Deadpool hunts down the man who nearly destroyed his life.
Hail, Caesar!
PG, Comedy, 106 min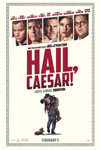 Hail, Caesar! Trailer
In the 1950s, Capitol Pictures Studios is working hard to bring to the screen their biggest release of the year — Hail, Caesar — starring Baird Whitlock (George Clooney), one of the biggest stars in the world.
When Baird Whitlock goes missing, studio "fixer" Eddie (Josh Brolin) is brought in to find him. A ransom note is delivered, asking for $100,000 for Whitlock's safe return. It's signed: The Future.
Kung Fu Panda 3 3D
PG, Family, 95 min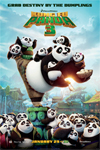 Kung Fu Panda 3 3D Trailer
When Po's (Jack Black) long-lost panda father suddenly reappears, the reunited duo travel to a secret panda paradise to meet scores of hilarious new panda characters.
Po runs into two hugely epic, but different threats: one supernatural and the other a little closer to his home when the supernatural villain Kai begins to sweep across China defeating all the kung fu masters. Po must do the impossible—learn to train a village full of his fun-loving, clumsy brethren to become the ultimate band of Kung Fu Pandas!
Pride and Prejudice and Zombies
14A, Action, 100 min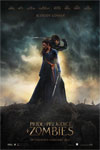 Pride and Prejudice and Zombies Trailer
In this wild reimagining of Jane Austen's classic tale set in the 19th century, scrappy martial arts specialist Elizabeth Bennet (Lily James) and the very wealthy Mr. Darcy (Sam Riley) are true opposites — however, equally prideful and prejudiced.
But in the face of an unknown and dangerous plague, the two must cast aside their different social classes in order to deal with their tangled romantic relationship — and fight off an army of undead zombies.
Based on the classic novel Pride and Prejudice by Jane Austen.
Room
14A, Drama, 118 min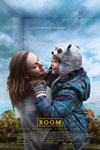 Room Trailer
Jack (Jacob Tremblay), five, was born in captivity. The shed in which he and his Ma (Brie Larson) are confined is all he knows. His Ma was abducted when she was 17 and their only visitor is his father and her kidnapper, Old Nick (Sean Bridgers).
When Jack and his Ma finally escape, he is both awestruck and terrified by the outside world. His Ma, on the other hand, must face the long and difficult process of recovery after being imprisoned for so long.
Based on the novel by Emma Donoghue, who also wrote the screenplay.
Canadian Connection: Filmed in Toronto. Jacob Tremblay, who plays Jack, is Canadian, as are several other cast members.
Star Wars: The Force Awakens 3D
PG, Action, 136 min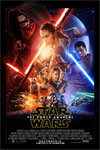 Star Wars: The Force Awakens 3D Trailer
Thirty years after Return of the Jedi, Luke Skywalker (Mark Hamill) is missing. A Resistance pilot (Oscar Isaac) is given a map to find Luke, and before he's captured by the First Order, he gives the map to BB-8.
Meanwhile, a scrappy scavenger named Rey (Daisy Ridley) and a former Stormtrooper named Finn (John Boyega) team up with Han Solo (Harrison Ford) and Chewbacca on the Millennium Falcon to find Luke for General Leia (Carrie Fisher).
The Big Short
14A, Drama, 130 min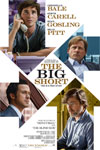 The Big Short Trailer
Prior to the 2008 global financial collapse in which banks screwed their customers by committing the greatest fraud in U.S. history, four outsiders (Christian Bale, Steve Carell, Ryan Gosling, Brad Pitt) decide to take them down when they figure out how to "short" the market. The risk is huge, and they have only one shot at it.
Based on the bestselling non-fiction book "The Big Short: Inside the Doomsday Machine," by Michael Lewis.
The Finest Hours 3D
PG, Action, 117 min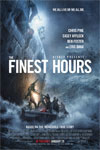 The Finest Hours 3D Trailer
During a dangerously ferocious storm on February 18, 1952, two oil tankers get caught in the turmoil off the coast of Cape Cod, just miles from Chatham, Massachusetts.
The SS Pendleton and SS Fort Mercer are mercilessly ripped in half, sending all the passengers plunging helplessly into the stormy waters. The U.S. Coast Guard is called to rescue in what becomes labeled a suicide mission.
The Revenant
14A, Thriller, 156 min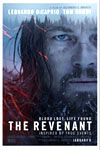 The Revenant Trailer
In the 1820s, frontiersman Hugh Glass (Leonardo DiCaprio) is brutally attacked by a bear and left for dead deep in the uncharted American wilderness by members of his own hunting team.
Guided by sheer will and the love of his family, Glass navigates a hostile environment, a frigid winter, and unfriendly Native American tribes in his quest to survive.
Inspired by true events and based in part on the novel by Michael Punke.
Canadian Connection: Filmed in Alberta and British Columbia. Some cast and crew members are Canadian.