Movie Times
Conveniently located on the Toronto subway line, the Empress Walk cinema is one of North York's most popular cinema destinations. Get the latest showtimes and movie information:
Alexander and the Terrible, Horrible, No Good, Very Bad Day
PG, Family, 81 min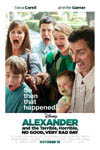 Alexander and the Terrible, Horrible, No Good, Very Bad Day Trailer
Eleven-year-old Alexander (Ed Oxenbould) experiences the most terrible and horrible day of his young life—a day that begins with gum stuck in his hair. He does a face plant in front of a cute girl, photoshopped pictures of him are texted to the whole school and he accidentally sets a fire in class. But when Alexander tells his family about his disastrous day, he finds that they're all having nothing but luck and he begins to wonder if bad things only happen to him.
However, when his brother Anthony (Dylan Minnette), sister (Kerris Dorsey), mom (Jennifer Garner) and dad (Steve Carell) soon all find themselves living through their own terrible, horrible, no good, very bad day, Alexander can relate and helps guide them through it.
Annabelle
14A, Horror, 98 min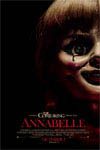 Annabelle Trailer
John Gordon (Ward Horton) and his wife Mia (Annabelle Wallis) are expecting a child. He buys a vintage doll called Annabelle for their unborn daughter. Shortly after, their home is invaded by members of a satanic cult, who attack the couple and spill blood on Annabelle.
Traumatized, they try to move on with their lives and after their baby is born, they move into a new home. Annabelle comes along but when frightening, inexplicable things start happening, they find that a demon has attached itself to the doll.
Dracula Untold: The IMAX Experience
14A, Action, 92 min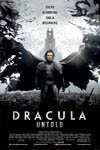 Dracula Untold: The IMAX Experience Trailer
Vlad Tepes (Luke Evans) is a great hero, but when he learns the Sultan is preparing for battle and is planning to form an army of 1,000 boys, including Vlad's son, he vows to find a way to protect his family.
Vlad turns to dark forces in order to get the power to destroy his enemies and agrees to go from hero to monster as he's turned into the mythological bloodsucker Dracula.
Based on characters by Bram Stoker.
Fury
14A, Drama, 135 min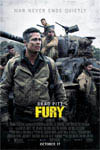 Fury Trailer
April, 1945. During the last months of WWII, a battle-hardened army sergeant named Wardaddy (Brad Pitt) takes command of a five-man team who pilot a Sherman tank named Fury on a deadly mission behind enemy lines. Outnumbered and outgunned, they have to defeat all odds in an attempt to strike down Nazi Germany.
Gone Girl
14A, Thriller, 149 min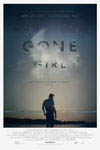 Gone Girl Trailer
Nick Dunne (Ben Affleck) and his beautiful wife, Amy (Rosamund Pike), move from New York City back to his hometown of North Carthage, Missouri, where, with money from Amy's trust fund, he opens a bar. On their fifth wedding anniversary, Nick reports that Amy has gone missing.
Although at first he has support in his quest to find her, Nick eventually becomes a suspect in her disappearance and possible murder, especially when he's questioned by the police and gives a much different view of his marriage than what they find in Amy's journal. To top it off, the police find out he's been having an affair.
Based on the novel by Gillian Flynn.
National Theatre Live: Frankenstein (Reverse Casting)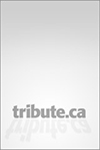 National Theatre Live: Frankenstein (Reverse Casting) Trailer
Childlike in his innocence but grotesque in form, Frankenstein's bewildered creature is cast out into a hostile universe by his horror-struck maker. Meeting with cruelty wherever he goes, the friendless Creature, increasingly desperate and vengeful, determines to track down his creator and strike a terrifying deal. Urgent concerns of scientific responsibility, parental neglect, cognitive development and the nature of good and evil are embedded within this thrilling and disturbing classic gothic tale. This visionary production, directed by Oscar-winner Danny Boyle, will shock audiences into the mysterious world of Frankenstein.
National Theatre Live: Skylight
Program,
The Best of Me
PG, Drama, 117 min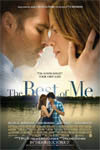 The Best of Me Trailer
Former high school sweethearts Dawson (James Marsden) and Amanda (Michelle Monaghan) reunite after 20 years apart when they return to their small town for the funeral of the man who took Dawson in when he needed refuge from his violent family.
The two parted when Amanda's parents refused to pay for college if she continued to see Dawson. Realizing she was in danger from his family and not wanting her to miss out on college, he broke up with her. Although she moved on and got married, the memory of her never left him and he remained single.
Their bittersweet reunion reignites the love they've never forgotten, but his family continues to pose a threat, and although Amanda has stayed with her alcoholic husband for her children's sake, she can't ignore the fact that Dawson is her one true love.
Based on the novel by Nicholas Sparks.
The Book of Life 3D
G, Comedy, 95 min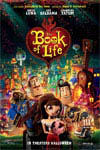 The Book of Life 3D Trailer
This animated feature is about Manolo (Diego Luna), a young man who can't decide whether he should fulfill his family's expectations or follow his heart. While fighting for the affection of the beautiful Maria (Zoe Saldana) with another man, Joaquin (Channing Tatum), two spirits, La Muerte and Xibalba, make a bet on the outcome. In order to guarantee heíll win the bet, Xibalba sends a snake to kill Manolo, separating him from Maria.
Manolo, still desperate to be with the woman he loves, embarks on a journey through three fantastical worlds to reunite with Maria in the human world before she marries Joaquin. The film is full of breathtaking visuals and unforgettable characters on an adventure spanning every world imaginable.
The Equalizer
14A, Action, 132 min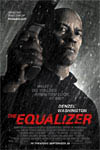 The Equalizer Trailer
Robert McCall (Denzel Washington), a former covert operations officer, volunteers his services as a private eye to people in need in an attempt to atone for a dark past.
He meets and forms a relationship with Teri (ChloŽ Grace Moretz), a teenage prostitute who needs his help. However, as a result, he finds himself embroiled with the Russian mob.
Based on the 1980s TV series of the same name.
The Judge
14A, Drama, 141 min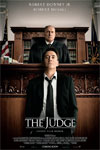 The Judge Trailer
When successful big city lawyer Hank Palmer (Robert Downey Jr.) returns to his hometown for his mother's funeral, he finds out that his estranged father (Robert Duvall), esteemed Judge Joseph Palmer, is suspected of murdering a former defendant whom he failed to convict, and who went on to commit a horrific crime.
Hank sets out to discover the truth, and along the way, reconnects with the family he walked away from years before.
The Maze Runner
PG, Action, 113 min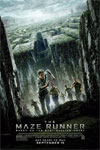 The Maze Runner Trailer
Teenager Thomas (Dylan O'Brien) is brought to a place called the Glade, a giant maze surrounded by vicious creatures called Grievers. He has no memories of anything in his life that happened before.
The Glade is inhabited by other teenage boys, all of whom have specific jobs to do. Over time, Thomas finds out that the boys have been trying to solve the Maze for two years and that a sting from the Grievers can cause you to recall memories from the past.
Each month, a new boy arrives, but soon after a girl arrives with a message saying she's the last one, she winds up in a coma. However, Thomas realizes he can hear her speaking in his head and when she wakes up, they form a bond. Along with the other boys, they try to figure out a way to escape.
Based on the young adult novel of the same name by James Dashner.